Civil War Mens Confederate Coats
Hi Guys check out our adorable Civil War Men Confederate Coat with 4 rows Braids Reproduced. As I have introduced you with special and stylish civil war frock coat earlier. Now I am here another stunning product. Stunning coat is made up with premium and pure wool to make it highly comfortable for the wearer.
In addition it possesses yellow collar and cuffs with 4 rows braids. All these designing look just awesome. You don't to miss this worthy coat, just buy it and be classy. Men Confederate Coat possesses lining to the end, double breasted with 14 CSA Buttons. I am sure you have liked it well. Read out the features for more details about this coat.
Features of Confederate Coat:
Manufactured with Pure Wool
Double Breasted
Collar and Cuffs are Yellow
14 CSA Buttons
Four rows Braids
Button's designing on cuffs
Completely lined to the waist
Brand New and Custom Made
All sizes are available
Design of Confederate Coat:
Let's discuss about the design and stitching of Civil War Mens Confederate Coats. I am sure you will impress from worthy details. In addition I will show you images of each part of coat too. Have a look.
Front of Confederate Coat:
Alright….. I will start to explain from front side of coat. First of all coat is manufactured with pure wool and highly comfortable. In the second place, it has standing collar of yellow color. Amazingly adorable coat is double breasted with the designing of 14 CSA buttons on front.
Yellow fabric is also present in the neckline portion for the decoration of buttons. In addition it has lining to the waist of coat. Amazingly coat possesses pockets at inner side, you can keep necessary thing with you. To summarize, coat has stunning front side with worthy material and decoration material.
 Sleeves of Confederate Coat:
Here I will tell you about adorable sleeves of Civil War Mens Confederate Coats. It has long sleeves with yellow cuffs. 4 rows braids are present of sleeves in a stylish way. Three chrome buttons are present on the both cuffs.
Back of Confederate Coat:
In the end, read out about the back side of coat. Beautifully stitched back side has pleats. Same buttons are also present at the back to beautify it. All in this entire reproduced coat is awesome.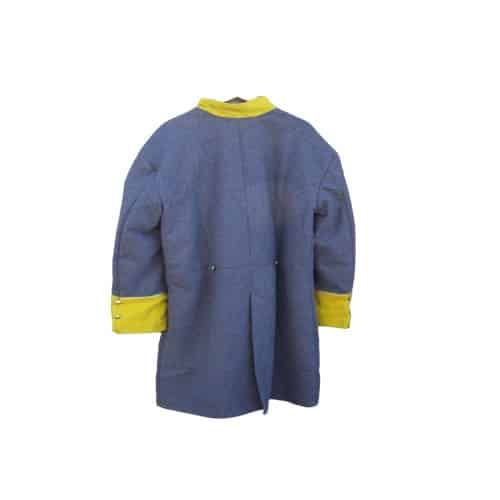 I appreciate your patience. Check out the adorable collection of coats and jackets of our store. I am sure you will say waooooo. Purchase it now at affordable price. In the case of any query contact us on [email protected].
You may also like New Leather Autumn Jacket Womens V-Neckline