Military Mens Black Jacket
This is another beautiful design antique long Gothic trench coat for traditional lovers. A premium vintage coat as it has great embroidery work. This is although vampire style coat, but still many people love to wear it at parties, at weddings, at new year or other events.
A full length premium vintage coat which has been stuffed with premium decorated metal holes and metal clips. These premium stuffs attract the buyers all over the world. Our coat makers have made this coat for you in a professional manner that is why this is the best selling Gothic trench coat.
This antique coat is very precious and its design is different as of others. This beautiful full length Military Mens Black Jacket has a metal zip, which is used for fastening the coat. We have dyed this antique coat in a pure black color, which is the most attractive color among all colors.
Our team of trained workers works hard in making such a beautiful Gothic style coat. Our manufacturers can make more than 100 same design coats for you in every single day. Don't waste your time by looking here and there, just buy the best Gothic coat.
Features of the Jacket
The features of this jacket are given below
Custom Made
Premium Material
Black Color
Metal Clips
Available In All Sizes
Full Length Coat
Premium Stitching
New Condition
Hand Made
Metal Holes
For Every Event
Best Quality Material
This vampire vintage coat has been made with the top quality material. Premium stitching has been done on this vampire coat. This is also the durable coat for you. This vampire coat will make your day!!!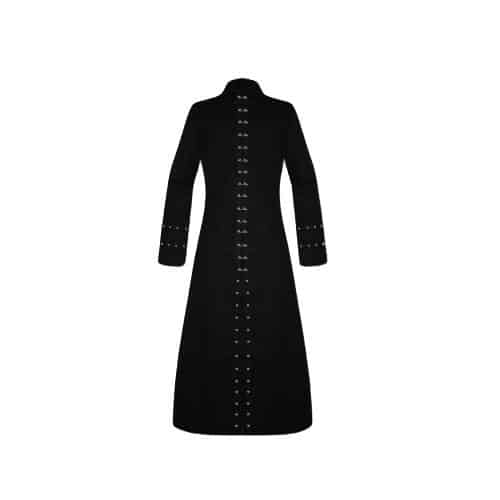 Custom Made
This is the full length coat as shown in the pictures, but if you want small size then it is also available. Moreover, we can also change its color and design according to your order.
Easy To Wear
This premium vampire coat is easy to wear. Any age man can wear this best quality coat without any problem.
With Any Wear
Well, you can wear any favorite pant with this vampire coat, but you will look eye catching when you wear this vampire coat with black jeans pant.
New Condition
This antique Gothic trench coat is available for our customers in a new condition.
For Any Event
This is a very beautiful and attractive coat for every ancient stuff lover. You can wear it at different parties, but you will look more elegant when you wear this coat in any crowdy event such as weddings or Halloween parties.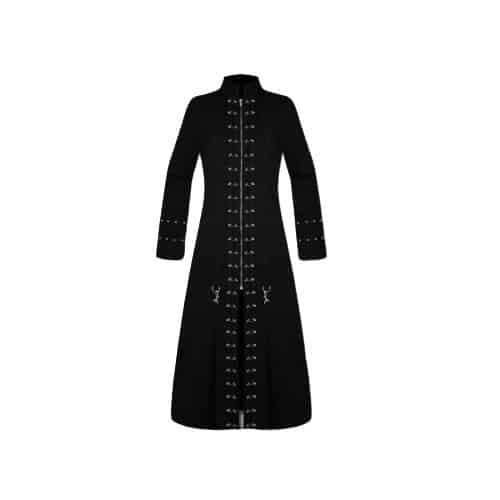 Metal Clips
Have a look at this vampire coat? There are series of premium quality clips on each side of the lapels at the front side of the full length coat. These metal clips are a unique feature of this coat and it attracts the buyers.
On the back side of Military Mens Black Jacket, we have also attached these premium clips for you.
Metal Zip
We have attached a metal zip on the front side of the vampire coat for fastening the coat. This zip is rust free, in fact, all our metal objects are rust free in nature, which increase the durability.
Decorated Holes
Decorated metal holes have also been attached to this long coat. We have added these holes on the back side of the coat. We have also decorated the cuffs of the vampire coat with these premium metal holes.
Better Price
Here you will find the best price of all our products. Our prices are always being lower than other online stores. So, Don't waste your time, purchase this vampire coat now!!
You may also like Camo Scottish Deluxe Army Green Color Kilt For Sale