Slim Fit Womens Leather Jacket
This is a beautiful leather female jacket which has been manufactured by our experts. This leather blazer womens jacket is the masterpiece of hard work by our employees.
This leather blazer womens jacket is different in shape and design because we have done according to the need of today's modern girls. Precious embroidery work has been done by our experts to make this leather girl's jacket better than other leather jackets.
Our experienced designers have added better quality and expensive metals to make it more beautiful. Well, you will also not find this sort of leather girls jacket on other retail shops.
You will look more sexy when you wear this beautiful Slim Fit Womens Leather Jacket with black or blue color pant but it is the choice and taste of every girl. This stylish leather jacket can be worn at any event or any place like at home, at college etc, it depends on your lifestyle.
This jacket has been dyed in many colors like black, red, orange; you can choose your own color and our workers will dye this jacket according to your desired color.
Stylish Jacket
This is the custom made jacket and we have every size available, just select the size of the given boxes and we will manufacture this jacket according to your selected size.
The leather quality which we have used in this jacket is original cowhide that is why this jacket is the number one choice of many stylish girls. By the use of original cowhide, this jacket becomes more durable and softer as compared to other type of leather jackets.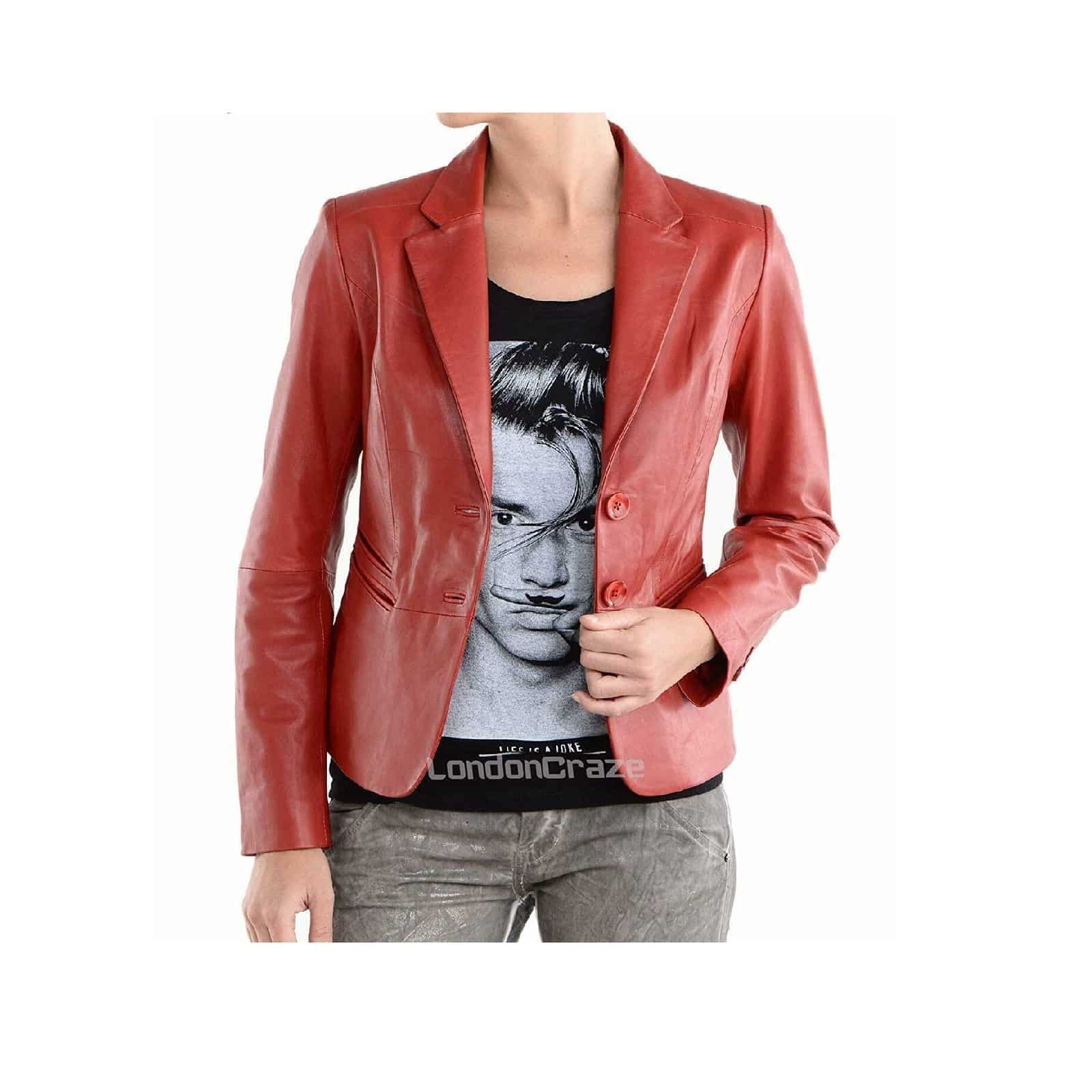 Have a look at the pictures? We have included precious metals in shape of buttons and zips and these stuffs give an attractive look to the buyers.
We can able to produce large amount of products according to customer's order, so order bulk and avail extra discount. Shop Now!.
Features of the Jacket
This jacket has awesome features, which are given below
Custom Made

Best Quality Material

Available in Any Color

Metal Zips

Zipper Pockets

Premium Stitching

Buttons

Premium Embroidery Work

Unique Collar

New Condition

Hand Made

For Any Occasion

Comfortable
Best Quality Material
We have used the real cowhide raw leather material for making this leather jacket that is why it has been our best selling women jacket in many foreign countries.
Custom Made
This is the custom made leather girl jacket, so every girl who wants customization in this jacket, then most welcome, we can do every work as per client's order.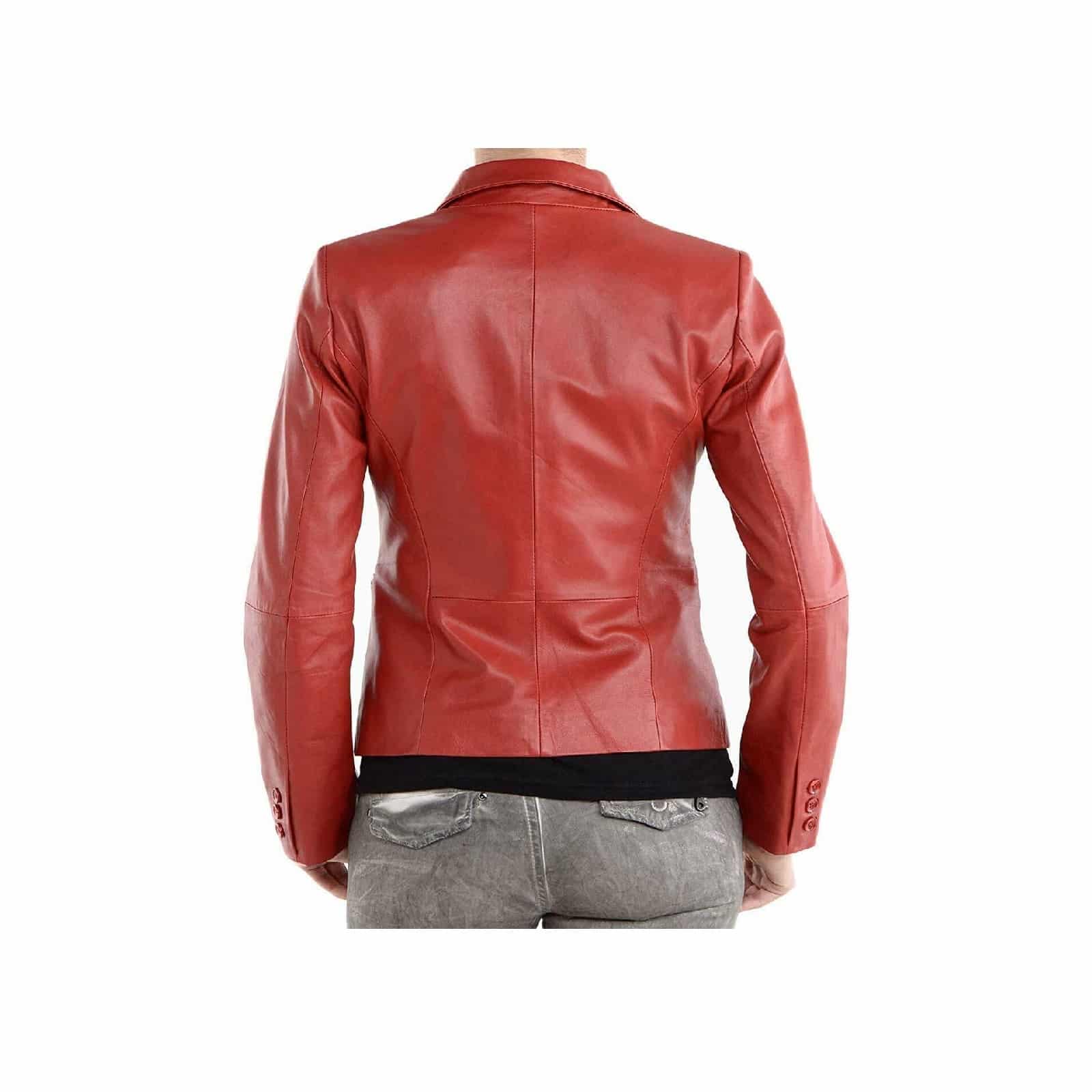 Hand Made
This premium leather blazer womens jacket has been beautifully stitched and it has been made by hands not by machines which may harm the jackets.
Buttons
Slim Fit Womens Leather Jacket has a big and unique collar which can fasten by using premium metal buttons. Our workers have also placed these metal buttons at the bottom of the jacket.
Zipper Pockets
We have included three zipper pockets with this cowhide leather jacket. The purpose of adding these zips is to store every important daily routine item.
Zip For Fastening
All zips which we have discussed above are rust free and made with original material that is why these are durable zips. Our designers have also attached another zip for fastening the jacket.
New Condition
This best quality leather girls jacket is available for our customers in a new condition.
Better Price
This jacket is a stylish and modern because it has antique metals and we are selling at a budgeted price to our leather lovers. Shop Now!
You may also like Brown Handmade Denim Utility Kilt For Men With Fast Shipping