Fashion Red Varsity Letterman Jacket
This jacket is the best Red Letterman Jacket for our customers and it is the new jacket to our wide range of varsity jackets. This varsity style jacket has been manufactured with the new and attractive design which attracts the buyer. This is very soft and comfortable and make you warmer in cold weather that is why it is the number of choices of every man.
This is a formal jacket which you can wear it at home or office.
We have made this varsity college jacket in a dark red color. The white color has been dyed on the shoulders while red color is on the other parts of the jacket.
You don't need to worry about the size because this beautiful Fashion Red Varsity Letterman Jacket is available for you in every size. You just have to select the given options and that's it, our workers will make this college style jacket for you.
Stylish Jacket
As you know this is the formal jacket but it doesn't mean, you cannot wear at parties and other events. We have designed it in such a way that you can wear at at any occasion without having any problem. Premium and stylish white color metal buttons have been added on the front side of the Red Letterman Jacket.
Fashion Red Varsity Letterman Jacket can be worn with any matching or favorite pant, it is of your choice and taste. Our experienced workers are capable to make more than 100 same design varsity jackets per day. For our premium clients, we are selling this red varsity jacket at a very reasonable price, so buy and rock!.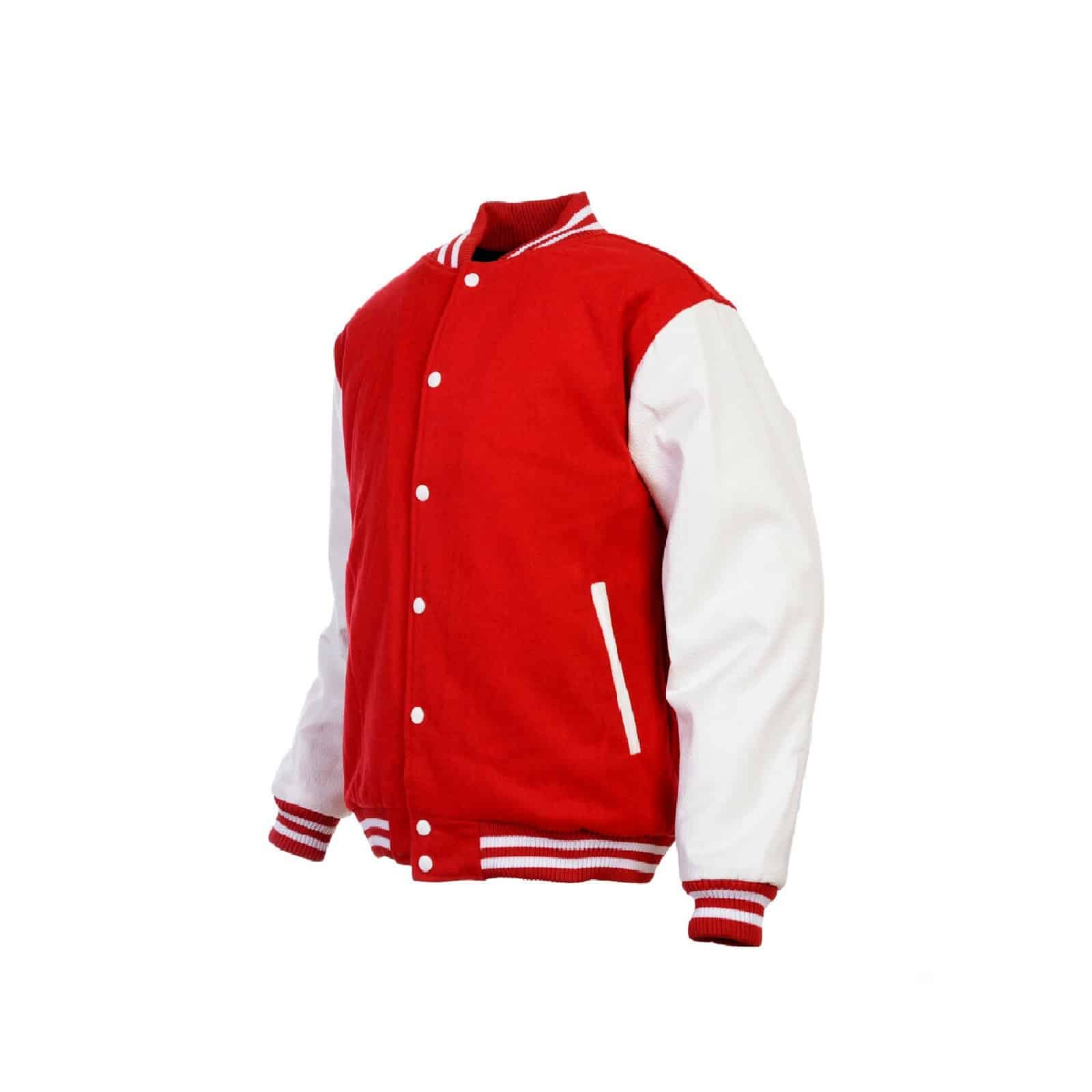 Features of the Jacket
Here are the amazing features of this jacket
Custom Design

Red Color

Buttons

New Condition

Hand Made

For Every Event

Easy and Comfortable
Best Material
Original wool material has been used in its production that is why it is the durable product for you. Our clothes are appreciated worldwide because of our premium quality.
Hand Made
Experienced wool makers made this varsity jacket for you by hands that is why many people of European countries love our products.
For Every Event
We have discussed above that this varsity jacket has been designed for every single event because it gives you slightly edge to other people. It is beautiful, soft and for everyone.
Buttons
There are overall seven buttons, but five have been attached on the front size and two has been attached to the bottom of the jacket. These are the best grade and rust free buttons.
New Condition
We always make new products according to customer's order, so you will get this Red Letterman Jacket in a brand new condition.
Better Price
Our prices are always being lower than other online jacket or kilt stores that is why we have a large number of customers from many countries. Buy this college jacket and enjoy!
You may also like Deluxe Utility Fashion Mens Black Kilt with Cargo Pockets