Olive Green Utility Kilt For Men
Well, this one is the unique style working man kilt which is different in shape and design as compare to our other working men kilts. This sexy man's kilt has been dyed in a new color olive green, which is pretty attractive, but if you like other colors and want this kilt in a different size then most welcome. Our trained makers can do every customized work for you. It is one of the best kilt for adventure lovers. Olive Green Utility Kilt For Men is a very beautiful kilt which you can wear at any place formal or non formal. Suitable for office, picnic, business meetings etc which enhance your personality.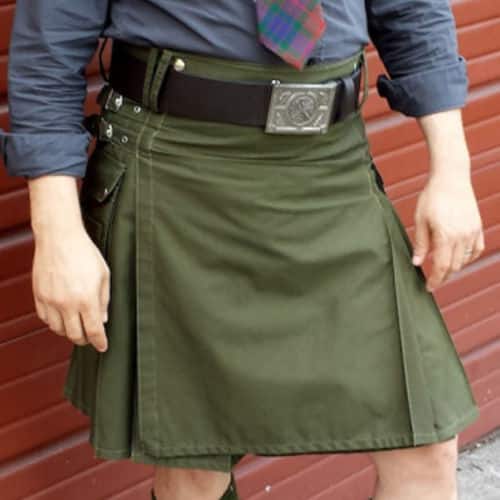 We have made this olive green kilt with premium lining and adorable stitching which make it a better kilt. We have decorated this olive green kilt with beautiful objects such as storage pockets, beautiful and precious metal buttons, belt loops, olive green straps with antique buckles etc. All these amazing elements give an eye-catching look to this kilt. A perfect working man's kilt for hard-workers.

Our customers are increasing day by day because our makers always make new and unique design products and that is why customers gives positive feedback on these products. You can wear this awesome Olive Green Utility Kilt For Men with any color shirt or t-shirt of your choice. It is the best kilt with awesome features at your budgeted price.

Features of the kilt

The key features of this kilt are given below:-

Best Quality Material
Best grade raw cotton material has been used for making this olive green kilt. Order us and get your best quality olive green kilt at your door step.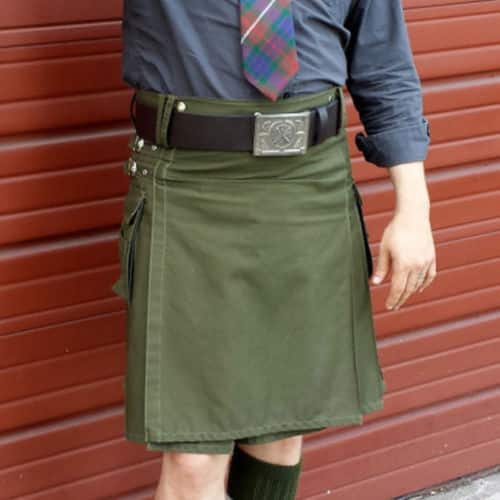 Custom Made Kilt
This is your best selling custom made kilt. Our workers can do anything according to customer's order. So order now! And enjoy your life.

Pockets and Straps
As we all know, storage pockets play a vital role with every dress pant, trouser, jackets and kilts. We have also added these pockets, so you can keep all your daily routine things in these storage pockets such as business letters, mobile phones, small camera, keys, wallet and hand made tools. Our designers have also added same olive green color premium straps to this kilt with precious metal buckles for comfortable adjustment.
Pleas and Belt Loops
Well, the pleats of this olive green kilt is pretty stylish and professionally sewn by our designers and this work has been done by using sewing machines. Moreover,  our workers have also added olive green color wide belt loops to carry the bigger size belts.

Multi-Event Kilt
This awesome men's olive green kilt has been designed for every event, so you can wear at home, at friend's meeting, at shopping center etc according to your choice.

Better Price
This is the best Olive green skirt for man and has fabulous features. We are selling this kilt at your budget price.
For any query or suggestion feel free to contact us at [email protected]
You may also like New Designer Men Chain Metal Style Leather Kilt