Men Deep Olive Green Utility Kilt
This is a very stylish deep olive green kilt which is manufactured by our workers. For every utility kilt lover, this is not less than the great gift for him because it has stuffed with best quality metals which you can see in the pictures. This is the premium kilt which has made with 100% real cotton material and it's also a more durable product.
This is not a formal kilt as you can  find in many local retail shops, this is a different design kilt, which have many useful stuffs which are necessary for every utility kilt lover. Our designers gave this deep olive green kilt a new look that is why this olive green utility kilt is different than other varieties of kilts.
Olive green man's kilt has made by keeping the mind of the stylish and modern kilt lovers. Mens Deep Olive Green Utility Kilt has a large number demand. The stitching quality of this deep olive green kilt is extremely beautiful. The premium stuffs which we have included in this olive green kilt is necessary for every customer.
Stylish Kilt
This olive green kilt has made by using the number one raw cotton material. This pure cotton made kilt is also long lasting than the others, so a best buy kilt for our clients.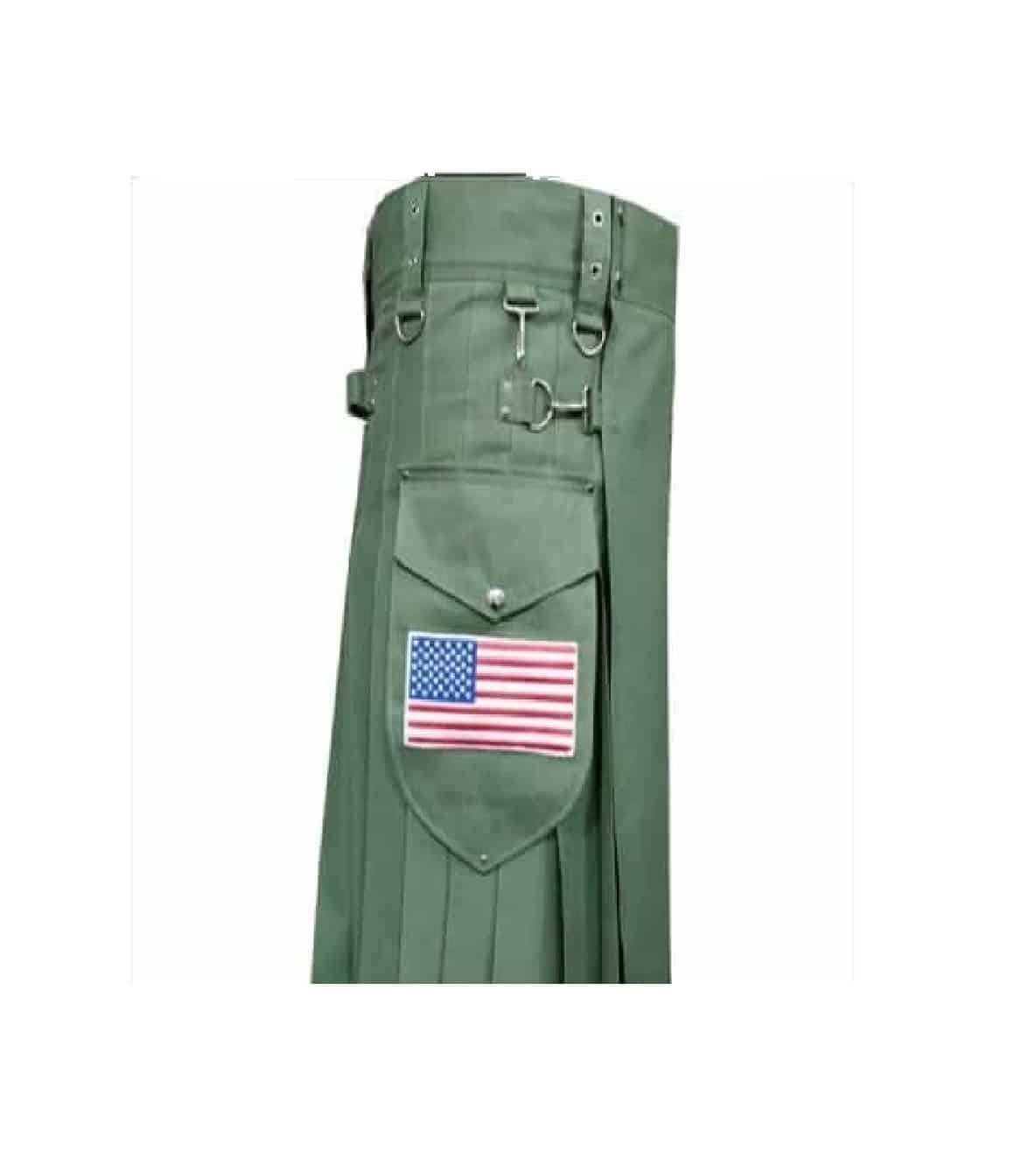 This is the custom made cotton kilt which has made by our trained workers, we can change the color of the kilt, we can also change its size as well as we can increase or decrease the metals in that awesome kilt. They can do every work according to your order.
There are a beautiful metal buttons on the front side and some of them in the pockets of the kilt which gives this olive green kilt a unique look.
Beautiful Kilt
The same stuff metal studs and beautiful metal holes have also attached with deep olive green kilt. Moreover, we have also attached metal d -rings and metal hook with this kilt to enhance the beauty of the kilt. Two big size storage pockets have also included with this kilt for keeping car keys, handmade tools and other small items.
This beautiful olive green cotton kilt has sewn by using latest sewing machines.
You can wear this olive green kilt with any matching shirt or t-shirt, but with a blue t shirt you will look more adorable.
This is the multi event cotton made kilt that is why you can wear this kilt formal or non formal occasions such as at shopping malls, at picnics, at weddings, at new year parties and other events of your choice.
The above features, make this Mens Deep Olive Green Utility Kilt more elegant. So, don't waste your precious time, just buy this best selling olive green kilt.
Features of the kilt
The unique features of this kilt are given below
Custom Made

Material: 100% Cotton

Olive Green Color

Premium Stitching

Precious Buttons

Precious Studs

Decorated Holes

Metal D-rings

Storage Pockets

Belt Loops

New Condition

Hand Made

For Every Event

Easy and Comfortable

Sewn Pleats
Best Quality Material
This cotton kilt is the masterpiece of our hand made work. This quality kilt is very popular in many European Countries.
New Condition
You will get this best selling deep olive green kilt in a new condition every time.
Price
This is a pure cotton material kilt and that is why it is available in the local market in very high price, but now we are selling this man's olive green utility kilt at a very reasonable price, so buy now
You may also like New Handmade Craftsman Utility White Color Dress Kilt