Mens Utility Camo Kilt
I am happy that the amazing images of the kilt urged you to be here on the product page of the kilt. Inspired by the Camo prints worn by the British military, the British Military mens utility kilts is a rugged. Utility kilt is the best clothing for the working men on service or for those who want to wear tough clothing. A bold khaki and brown Camo print enhances the beauty of the kilt to the last extent.
Mens Utility Camo Kilt has two roomy carpenter pockets on each side which are amazing. Heavy-duty hooks used to attach the pockets with the kilt,  you can remove them according to your need. In addition to these features there are belt loops to fit the kilt on your body. Furthermore, Pleats on the back allows the movement easily whether you're on the job or just out for the day in your Camo Kilt.
OK…. Let's discuss about the features of the kilt
Features of Military Camo Kilt:
Bold Khaki And Brown Camo
Removable Cargo Pockets
Belt loops
Rust Free Button & Hardware
Cotton Fabric
British Style
Design of Military Camo Kilt:
Furthermore, Read out about the design of the kilt clearly mentioned here for your ease to build an image of this kilt in your mind.
Front of Military Camo Kilt:
In the first place, front apron of Mens Utility Camo Kilt is the mixture of two colors Bold Khaki And Brown. Front apron is useful to hang the body straight. We have done the decoration on the front side and on the edges with the help of buttons.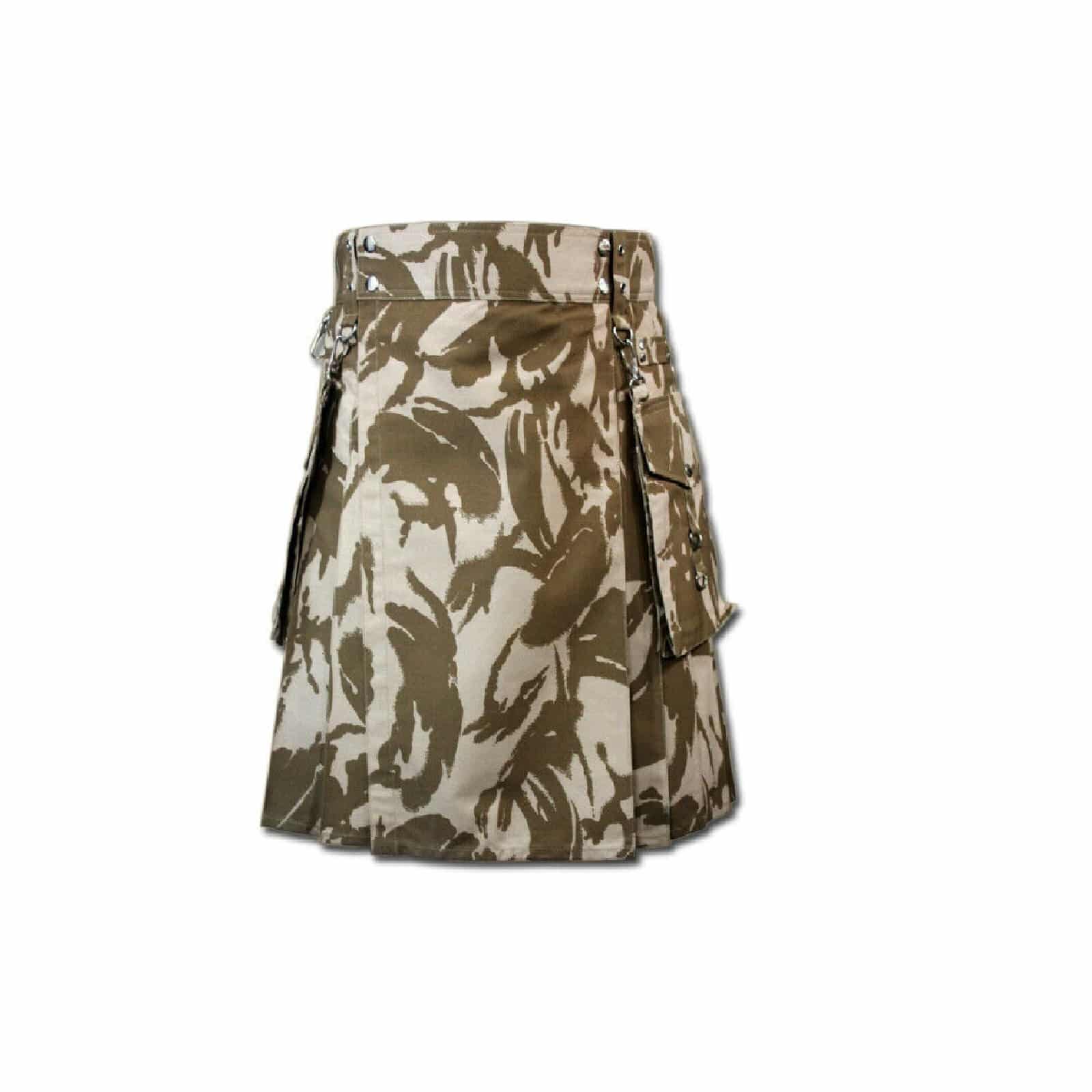 Sides of Military Camo Kilt:
Alright, now i am going to reveal about the most important part sides of kilt. Two decorative & removable flap pockets are available on the sides of the mens utility kilts. Moreover, kilt designers have deigned a small pocket present on the upper side of the flap pocket. Amazingly, there are two adjustable straps which help in better adjustments.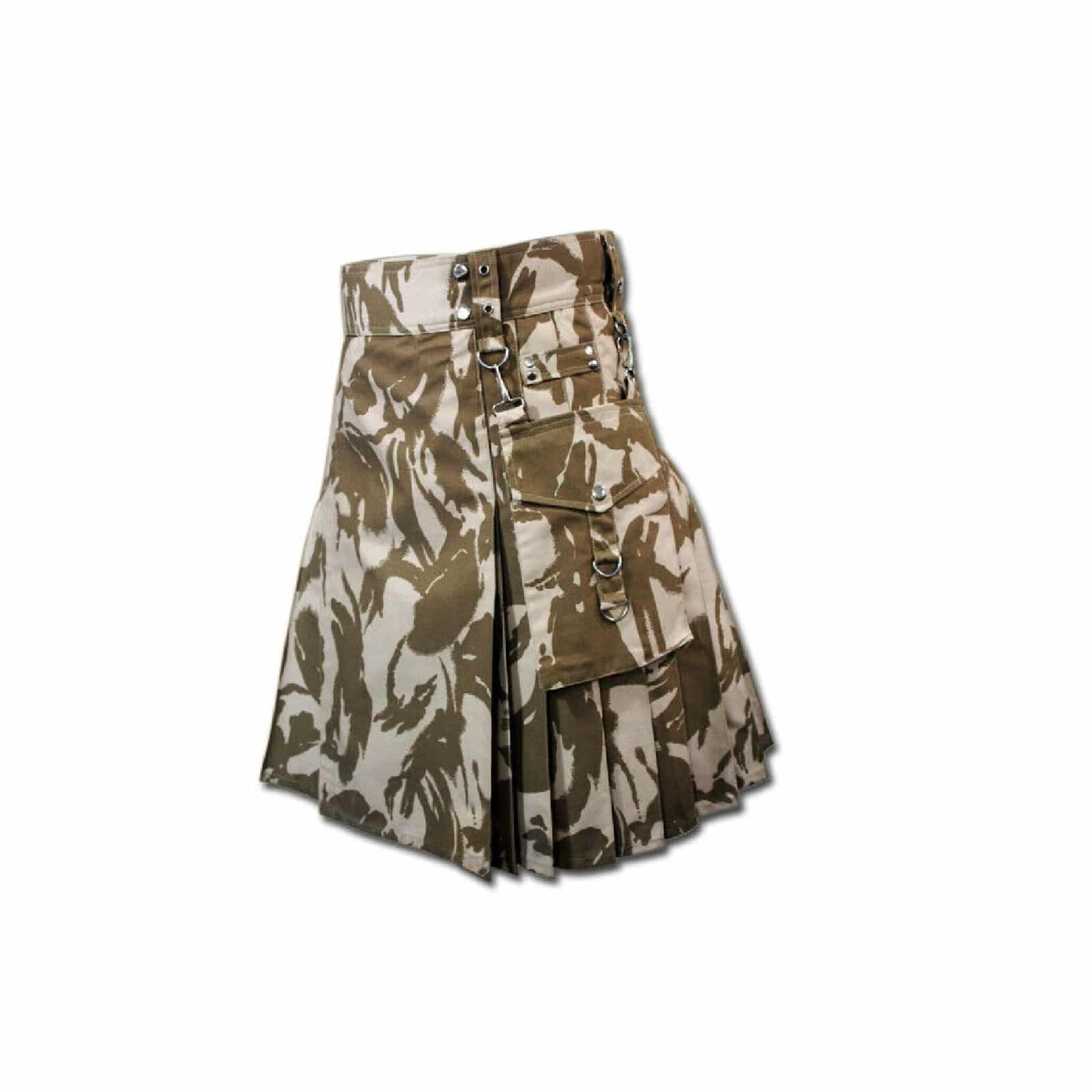 Back of Military Camo Kilt:
On the back two flap pockets are available with one small pocket. These pockets are decorated with buttons. Kilt Pleats has the depth of 2.5 inches, which are customizable according to your requirements.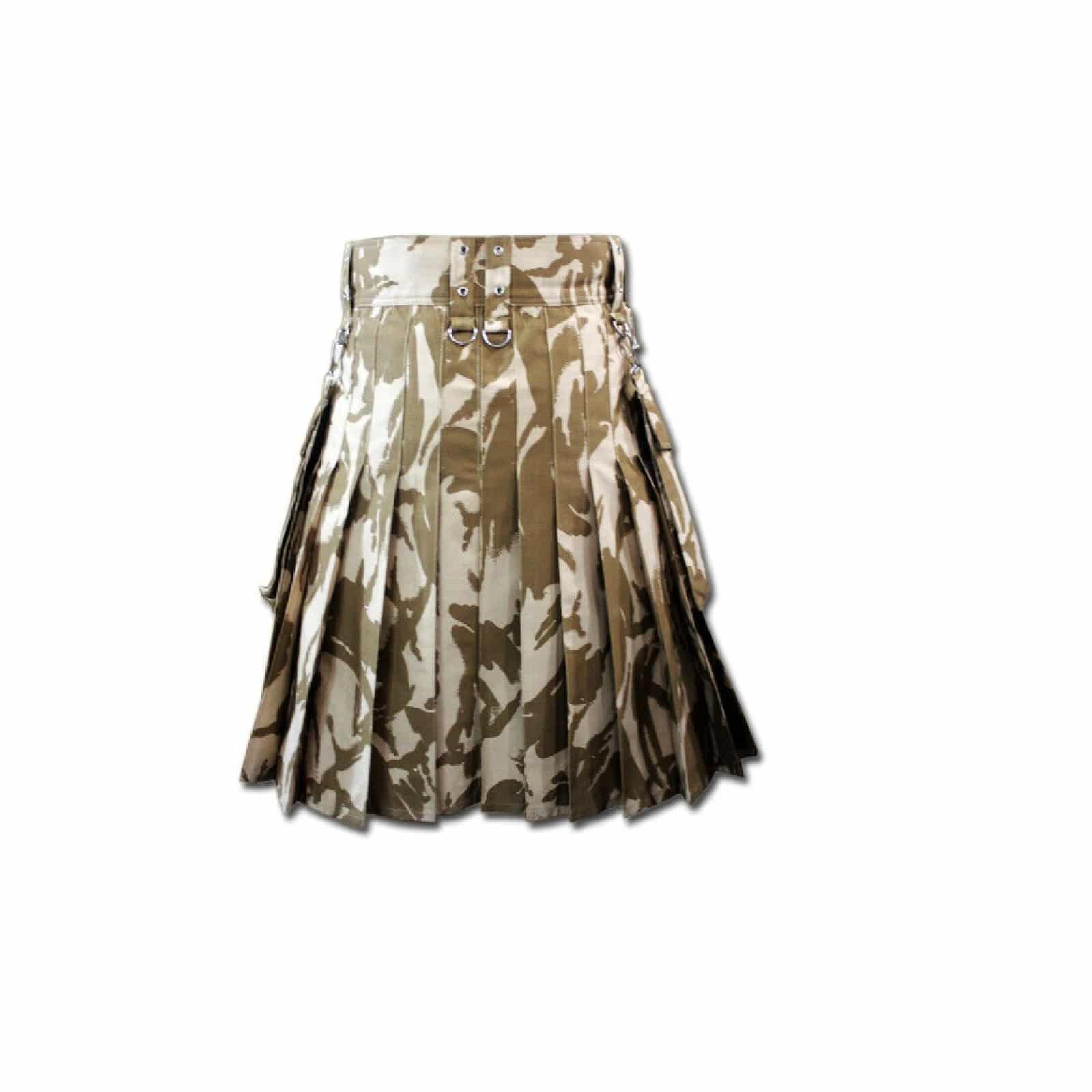 In the last place, thank you to be here on the product page of the Camo kilt. I hope we have briefly described about the all features of the kilt. Shop it now at lowest price.
If you find any problem while shopping us then contact us at [email protected]. Pleasure to see you here visits us again.
You may also like Army Scottish Digital Cotton Utility Kilt With Fast DHL Shipping