Black Jacket For Men
If you want to wear traditional Highland Stuff then wear our Black Jacket For Men. Amazingly it is pure depiction of traditional style clothing, as it possesses collar of 2 inches. This feature makes it similar like customary jackets.
Furthermore there is the beautiful decoration vest decorated with 5 buttons. If you don't want to add the vest, then we will send only jacket.
Modest Thistle Buttons are present on the both sides of the Jacket and Vest. You can fasten it with these buttons too.  There is the beautiful decoration of thistle buttons on cuffs too. It is the best jacket to wear on marriage and other important parties.
All highland jackets are available in our store and on affordable price. Order now and bring superior style in yourself. Read out the features of this amazing product,
Features of Sheriffmuir Jacket and Vest:
Custom Made Sheriffmuir Jacket
Construction with premium Quality
Decoration with Silver Thistle buttons
Fashionable Lining of Silk
Beautifully designed Jacket
All sizes are available
Design of Sheriffmuir Jacket:
Hmmm, are you waiting to read out about the design of the Quality Jacket? I will show you images of each part too for your convenience and interest. Have a look and buy the best jacket of our store.
Front of Sheriffmuir Jacket and Vest:
As you know that, the front side of any thing is really important to leave good or bad impact on others. Front side of this adorable jacket is stunning. You will forget to blink your eye after seeing the jacket. It is made up with premium quality material.
Furthermore there is mark able decoration of silver thistle buttons on both sides of the jacket. These are for the decoration but also used for the fastening. Amazingly we are also manufacturing adorable vest with the decoration of 5 thistle buttons. You have to mention the vest in your order; otherwise we will send the jacket without vest.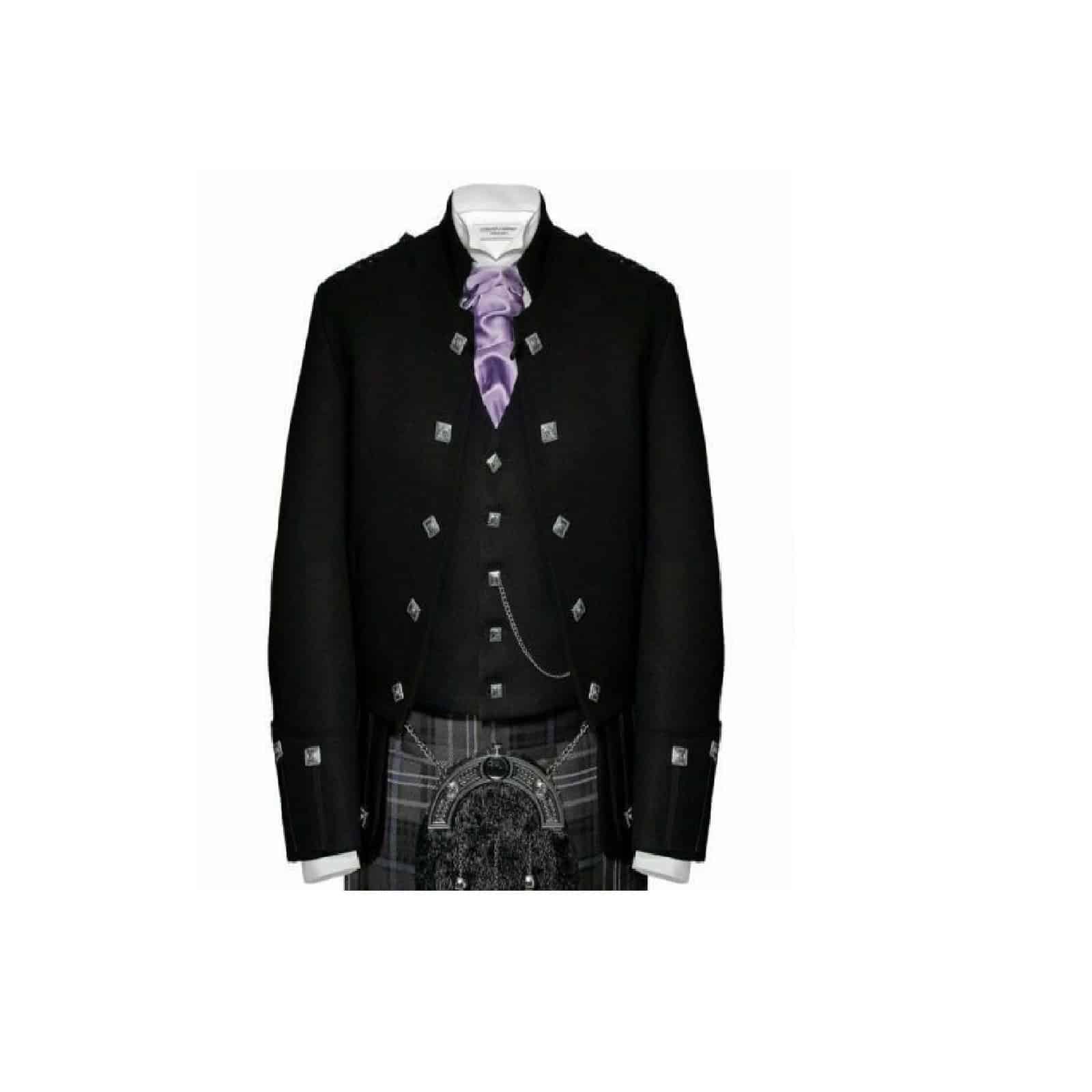 Sleeves of Sheriffmuir Jacket:
Alright….. Lets' talk about the Beautiful sleeves of the Jacket. It has long sleeves with braided cuffs with silver thistle buttons. These long detailed arrangements just look stunning.
Back of Sheriffmuir Jacket:
In the last part, I will tell you about the back side of this catchy jacket. Back side of Black Jacket For Men is simple without any decoration. Furthermore, it is stitched beautifully to make it durable and strong product.
To conclude, i am sure you are entertained with the details of one of stylish jackets of our store. Don't think much and order for it now. Awesomely it is available at reasonable price. Furthermore, jacket will give you stunning look in the parties. In the case of any problem, let us know on [email protected].
You may also like New Leather Autumn Jacket Womens V-Neckline