Black Horse Hair Kilt Sporran
This is your traditional black horse hair Sporran which our professional workers have made with the finest material. This black horse hair Sporran has made with hand made work.
Our professional makers always make new cloth products such as Sporrans, kilts, jackets and other accessories for our premium customers..
This long horse hair Sporran has prepared with the unique design which you did not find on the other huge range of Sporrans. Our workers have done a lot of precious work in this Sporran.
For every man and women, this Long Black Horse Hair Kilt Sporran is not less than the great gift for you. We are professional in this field and we can able to make more than 100 same designs Sporrans per day.
Features of the Sporran
Have a look at the unique features of this Sporran
Material: Horse Hair
Black Color
Two White Tassels
Chrome Chains
Embroidery Work
It stores all small Items As Key rings, Mobile, keys etc.
Good Detailing
Custom Design
Brand New Condition
18 inches overall length
Hand Made
For Men & Women
Best for formal and non formal events
Best Quality Material
The original horse hair has used for making this traditional black Sporran. We have added two white tassels which are also made with horse hair.
This horse hair Sporran is one of the popular Sporran because of its antique work. People of many countries such as Scotland, New Zealand, United states of America, Ireland, Germany, United Kingdom and other Europeans countries appreciated our products.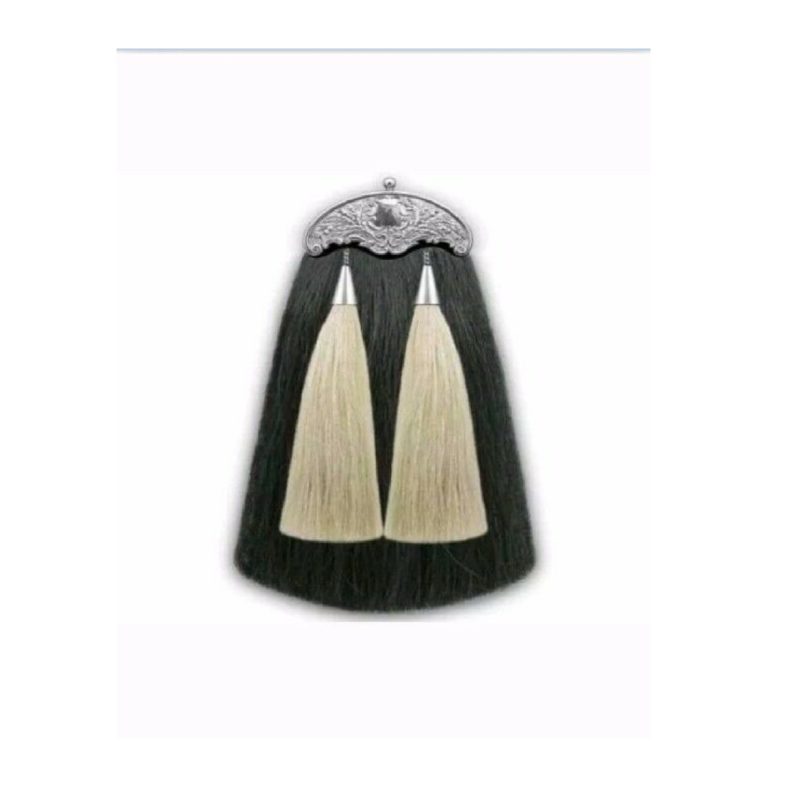 Custom Made
This is a custom design horse hair Sporran which has made in black color. This black color is the natural color but we can make it in white according to your order.
Few Things You Must Know
There are chrome plated chains.
To make it more attractive, we have added two white color tassels.
This black horse hair Sporran has best detailing which has been done by our special team of Sporran makers.
Original horse hair has been used in the making of this traditional Scottish Sporran.
This is available in a brand  new condition, according to customer's order.
You can keep all small items like wallet, keys, mobiles, etc.
This is a  hand hand Sporran and its default length is 18 inches.
This Sporran has a unique shape.
Premium Work
This Scottish horse hair Sporran has done with finest work which is different as of others. These finest works give an eye catching view to the customers of many different countries, so a great black horse hair Sporran to buy at a good price.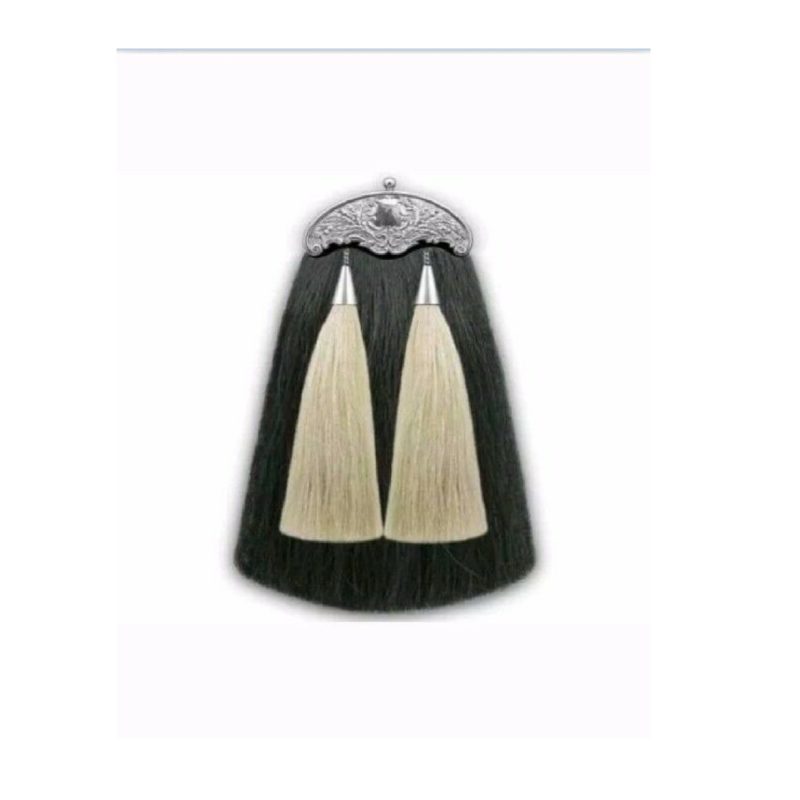 Hand Made
We have never used any machine for making this Sporran.
New Condition
We never sell defective goods to our clients. Our quality is up to the mark that is why you will get this horse hair Sporran in a new condition.
Better Price
This Black Horse Hair Kilt Sporran has huge demand in many countries that is why it is the best selling Sporran. This full dress horse hair Sporran is very expensive in other stores, but our managers are selling this horse hair Sporran at a very low price with the best quality.
You may also like Long Black Horse Hair Sporran with Two Tassels