3 Piece Ethnic Dress For Girls
As you know that I am introducing you a new stunning product of our store. I have come up with New Stylish Purple and White Ethnic 3 Piece Dirndl Dress Oktoberfest.
It is another Dirndl Dress with purple Apron. In the first place dress is stitched with cotton and silk. It possesses brown top with white and elegant blouse. In addition blouse is designed with flowers trim at both sides and shiny ribbon of same color. Amazingly dress possesses white and purple dotted skirt style.
In addition these designers have provided zipper closure in the middle of dress. You can easily adjust yourself in dress. Let's check out amazing features of this dress.
Features of Dirndl Dress Oktoberfest:
Manufactured with Pure Cotton
Brown Top
Delicate Flower Trim
Shinny Lace used on Top
White Stylish Blouse
Zipper Closure
Floral lace
Dotted Skirt
Silk Apron
Variety of colors is available
All sizes are available
Design of Dirndl Dress Oktoberfest:
I am sure you are looking for the details of design for this beautiful and adorable Purple and White dress. Amazingly I am going to tell you about complete design with the help of images. I just need your short time to tell you about the design of dress.
 Front of Dirndl Dress Oktoberfest:
I will start from front side of 3 Piece Ethnic Dress For Girls because it the catchiest side of dress. First of all designers have manufactured the dress with pure cotton and silk. Secondly it has awesome blouse of white color and top with brown color fabric. Delicate and stylish flowers trim is present on the both dies on the top.
In addition shiny ribbon of purple color is designed in zigzag fashion with the help of hooks. Furthermore hooks of the dress are also stylish and worthy. Now talk about the lower portion of dress. Amazing it has stylish skirt stitched with dotted cotton fabric. In addition to these there is beautiful silk apron on front, which is enhancing its beauty to the great extent.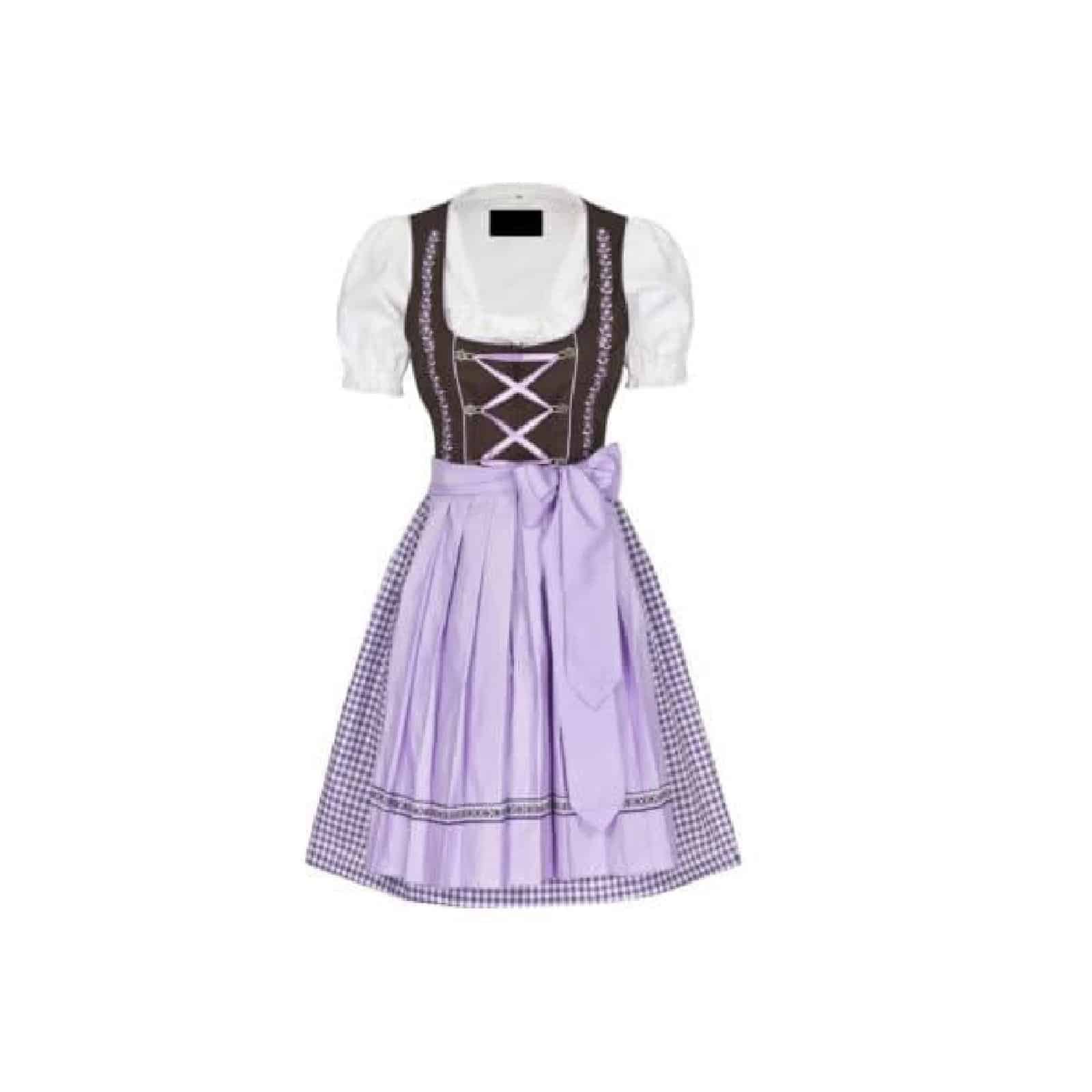 Sleeves and Neckline of Dirndl Dress:
Sleeves of 3 Piece Ethnic Dress For Girls are short and stylish. There is beautiful floral lace of white color is present around the sleeves. Neckline portion of Purple and White dress is stitched beautifully. Same lace is also present around the neck. To summarize this is the best dress to wear on parties and special events.
I appreciate your patience to be here on the product page. Place your order now and get this beautiful dress at affordable price. In addition, if you find any difficulty then tell us on [email protected]
You may also like New Chocolate Brown Mini Leather Traditional Scottish Kilt