Mens Khaki Utility Kilt
Duty men must be interested in this Mens Khaki Utility Kilt. In the first place, it is the exclusive utility kilt of our inventory. So if you want to wear something stylish and unique then you must be happy on the revealing of this kilt. Surprisingly it is the advanced addition in the collection of utility kilts.
Front side snaps give stylish and attractive look to the apron which makes the kilt dissimilar from others. Apron of the front side is strong enough to protect your secret parts while sitting. Six pure chrome buttons are present at the front apron. These buttons are beautifying the kilt and enhancing the attraction to the last extent. Furthermore this designing or decoration is as worthy as Utility Kilt Seattle.
One other feature has played its role to make the kilt unique; pockets of the kilt are detachable. You can easily detach the pockets to lighten the wait of the kilt while working. Extra space of pockets will allow you to keep extra stuff than basic.
Astoundingly you can adjust them according to your need. Moreover designers have also stitched standard belt loops with this kilt. You can wear belt to get the fitting according to your need. Premium chrome hooks are hanging through loops to make the kilt catchier.
Stylish Utility Kilt Seattle
Mens Khaki Utility Kilt possesses fully and fine sewed pleats at the back and sides. These pleats are for attraction and adjustment. You will not feel uncomfortable in the presence of customizable pleats.
Utility kilts are the first choice of working and stylish Men. Great variety of these kilts is available in our store. Some are for formal use some causal and some are party wear. Incredibly you can also attend weddings by wearing these outstanding kilts.
These kilts manufactured with pure fabric of cotton.  Moreover, extra purity comes from the hands of the manufacturers. So our manufactured kilts are just awesome.
Kilt is very simple and elegant as it looks in the images. Check out the features of the kilt for the deep details.
Features of the Snaps Utility Kilts:
Heavy Cotton Fabric
Front Snaps to tighten the Apron
D-ring detachable Pockets
Enough Hip Area for the proper adjustment
Fashionable Belt Loops on the Upper Side
Shinny Decoration at front
Chrome Buttons
Chrome Hooks
Customizable Waist
Design of the Snaps Utility Kilt:
As I have mentioned above that the design of the kilt is simple but adorable. Furthermore it is head turning kilt in any type of event. It can easily grab the attention of the others towards the wearer. First of all, Utility Kilt Seattle is made up of the Premium Quality and comfortable cotton fabric. Snaps of the kilt have made the apron stylish and tight.
It will not expose your conceal body parts. Front apron has stunning studs at front. These studs used for the decoration. Detachable D-ring pockets of the kilt are just remarkable.
Pockets will help you to reduce the wait of the kilt. Pleats of the Utility Kilt Seattle are full and fine. These pleats provide better adjustment to the wearer. Let's read out the more details about each part of the kilt.
Front of Snaps Utility Kilts:
In the first, we will love to tell you about the front side of Mens Khaki Utility Kilt. It is snaps Utility Kilt so snaps have played really important role in the tightness and adorability of the kilt. Furthermore, these snaps have improved the durability. Moreover chrome studs are ornamented on the front apron in a fascinating way.
Like other kilts belt loops are also present to fasten the belt. Belt loops have standard size of 2.5 inches. There is also the arrangement of shiny chrome buttons on the belt area. Chrome hooks are hanging with belt loops which are just adorable.
In addition to these you can attach chrome hooks on the front side to make its look more fashionable and catchier. Our designers have used premium quality cotton material in the manufacturing of this Utility Kilt Seattle. You can easily wash the kilt with hands. It will make you enjoy multiple events as it is tight, strong and durable.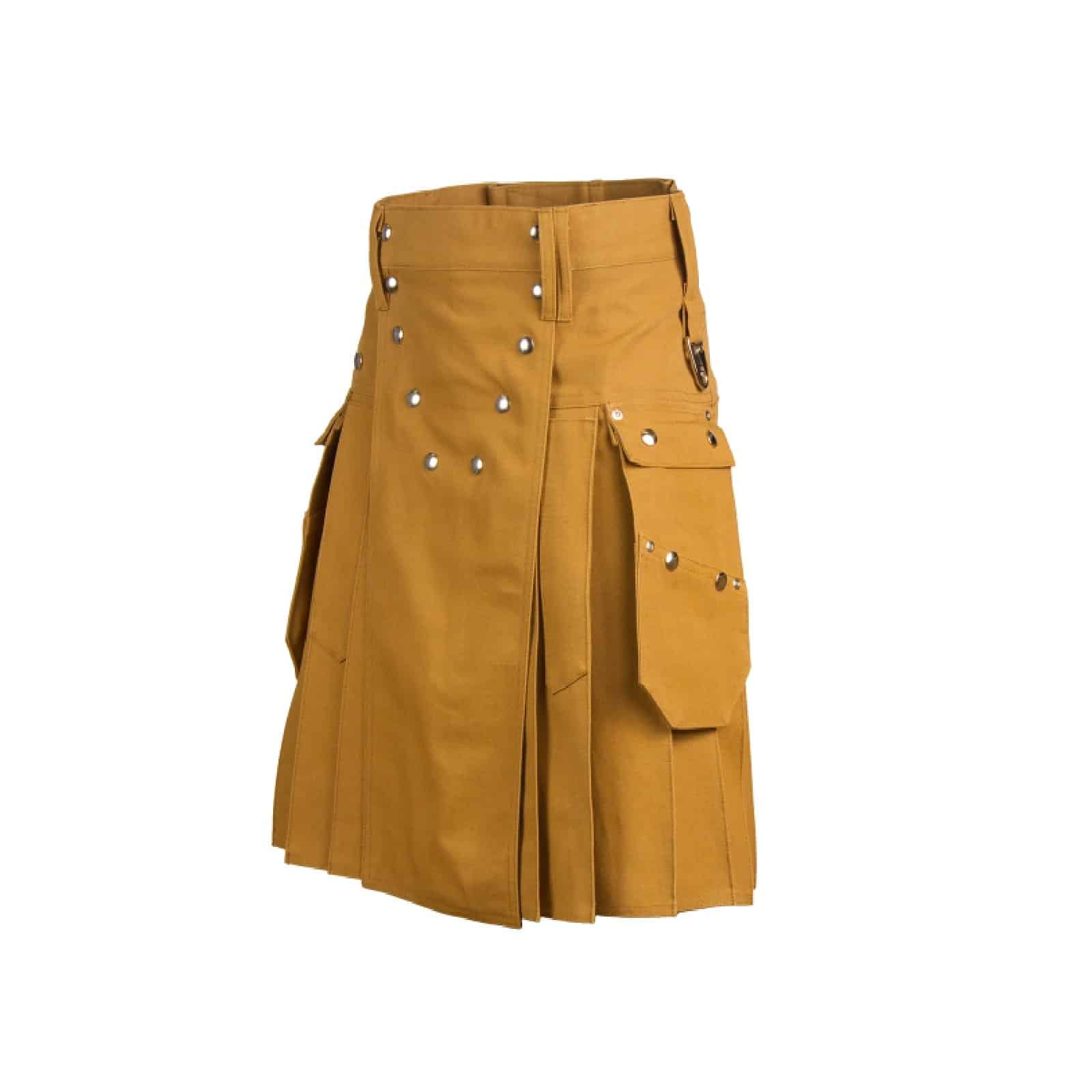 Pockets of the Utility Kilts:
Pockets of the Snaps Utility Kilts are just fantastic. This kilt possesses detachable D-ring pockets which are hanging with the help of chrome hooks. Pockets have the decoration of the chrome buttons on the front and upper side. One chrome buttons is also forming the closure to save your gadgets. If you want to attend any party without these pockets then you can effortlessly detach them. Secondly, if you want to wear light weight kilt then you can also do the same. So this kilt has unique and adorable features of many kilts.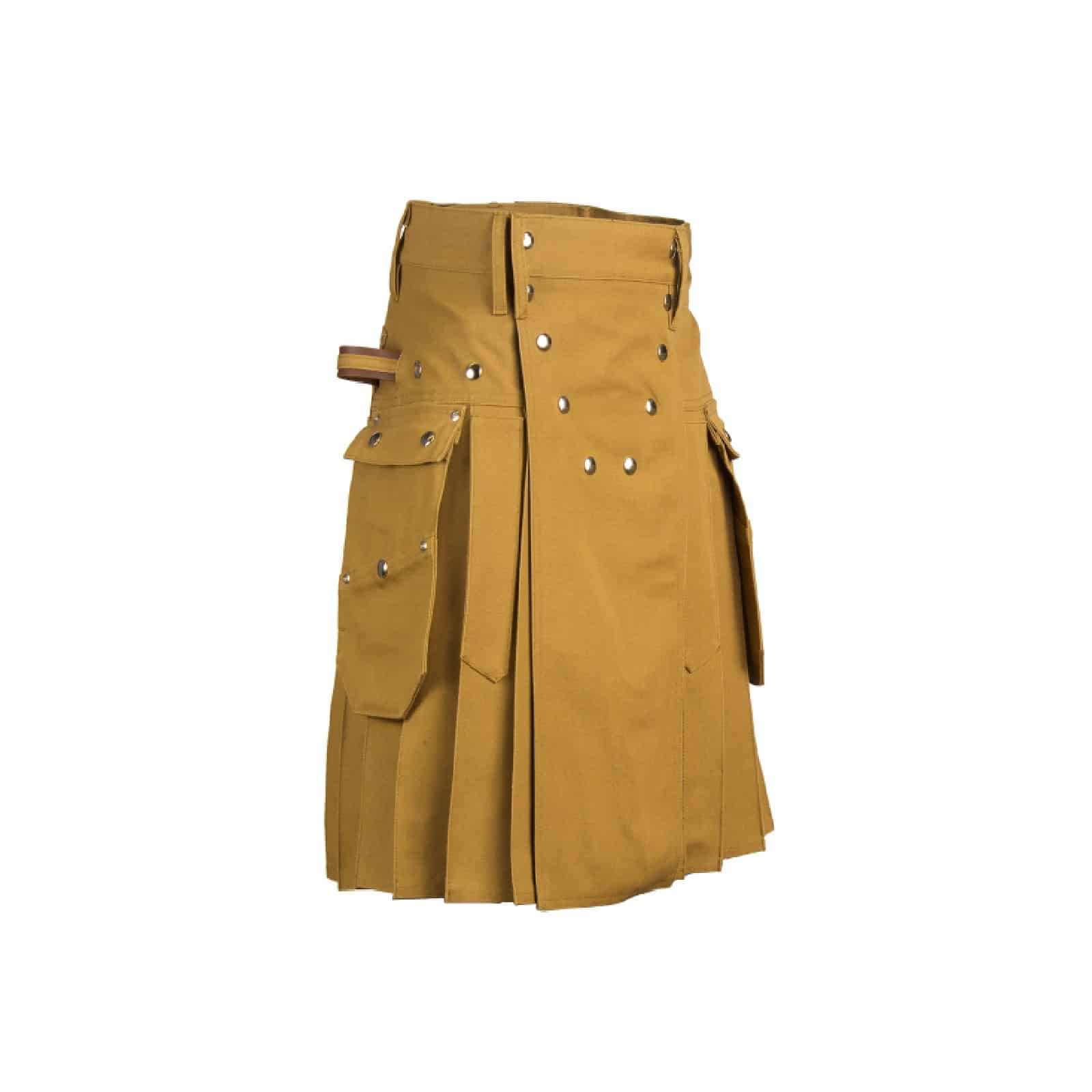 Pleats of the Utility Kilts:
As you know, that pleats are very important for strength, attractiveness and to provide enough space to the hip area. Pleats of the khaki Snaps Utility Kilts are amazing as they are in full swing. Wearer will feel comfortable and relax after wearing this kilt. In the end, all the features and design of the kilt are fantastic. You must have to buy this kilt to wear on duty and on formal events.
Rocket Kilts is enriched with quality products which are affordable and reasonable. Moreover all products made up of pure material. In addition these are handmade. So we have best collection of premium quality kilts. Our designers work for ten to twelve days to manufacture any specific kilt.
About Shipment
After that we ship kilt through fast service of Shipping. Astoundingly we are fast in industry and also providing the service of secure payment. Our kilts and Highland Accessories are available at discount rates.
Come forward and choose best kilt of your choice. Wear this kilt on any party to rock the event. Thank a lot to be here on this page. We appreciate it. Hope to see you again. Next time you can see the collection of new products in our store.
Purchase this kilt now; otherwise sale will end in few days. In case of any query contact us at [email protected] . I am sure you will enjoy our services.
You may also like Golden Chains Fashion Royal Men New Modern Dress Kilt