Scottish Mens Leather Warrior Skirt
If you want to try some unique and adorable kilt than the normal and casual kilt then try out our best leather warrior skirt. It has the beautiful decoration of studs on front side. These studs are beautifully decorated all around the kilt. This kilt will give you some unique style for sure with its red blazing color.
Designers have manufactured the kilt with dedication and love for their valuable customers. This will grab the attention of others to a great extent also make you eye catchier. You can make your day and events with this outstanding clothing. If you are interested to buy the kilt ten have a look on the features, which are just outstanding.
Features of Men's Gladiator Kilt:
Gothic Style Construction
Pure and Premium Cowhide Leather
Adorable Studs on Front Side
Wide Belt of 1.5 inches
Both Sides Buckles for waist
Finely Stitched Bottom
Back is without studs
Customizable Kilt
Design of Men's Gladiator Kilt:
As you have seen, with images that design of Scottish Mens Leather Warrior Skirt is unique, catchy and different from all other kilts. Pure Cowhide leather has also increased the attraction and worth of the kilt. I am going to ease you, because I am explaining all parts with the display of images. Stay with me for a short while.
Front of Men's Gladiator Kilt:
Front side of the kilt is worthy and incredible. One extra layer of leather material on the front side with studs is incredible. There is a beautiful arrangement of the golden color studs on the complete front. Furthermore, there is the availability of wide belt loops with 1.5 inches to fasten the belt. You can adjust this leather warrior skirt according to your need.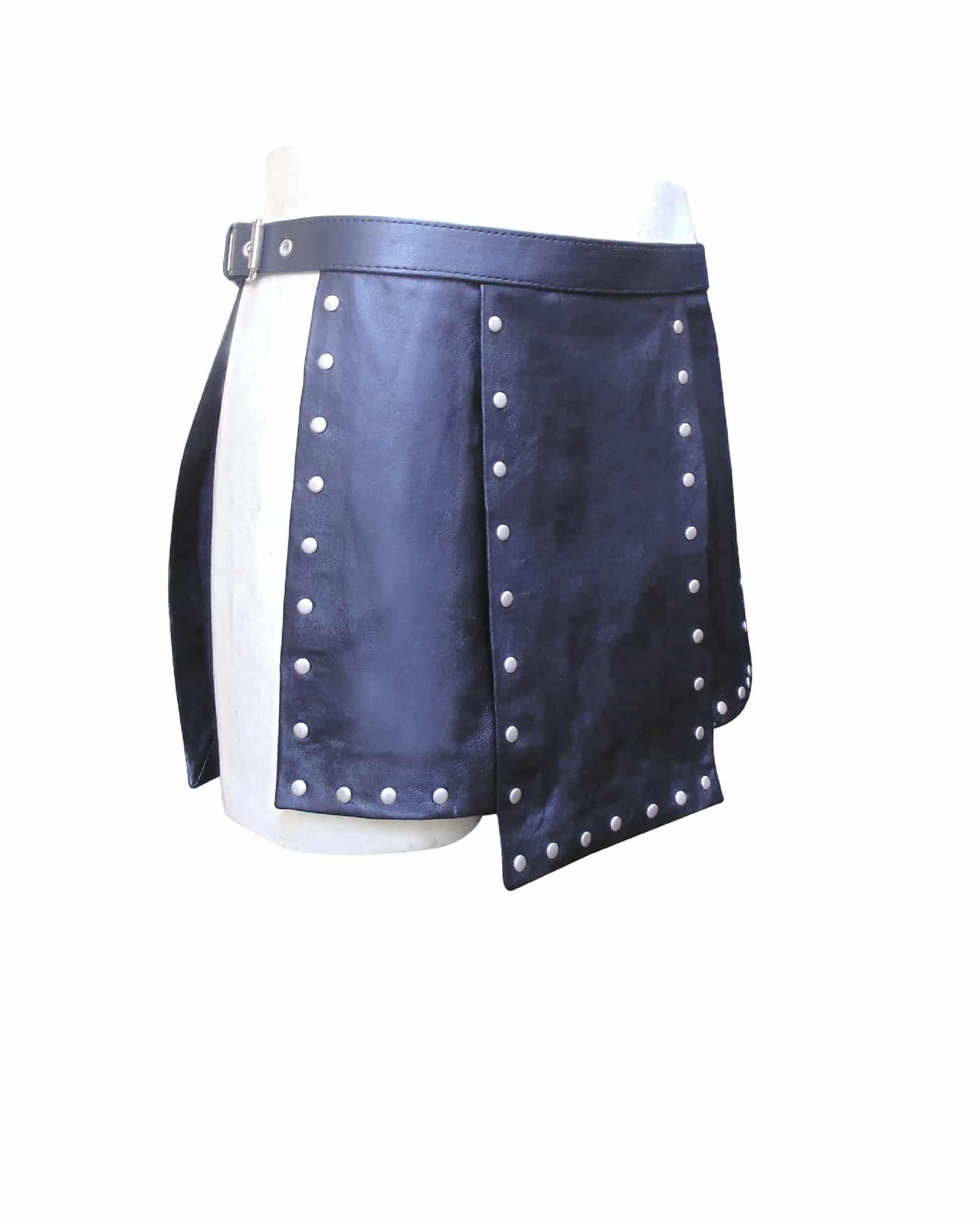 Side of  Men's Gladiator Kilt:
Let's look at the side of Scottish Mens Leather Warrior Skirt. There are the metal buckles present on the both sides. These are helpful for the adjustment of the hips. You will feel really comfortable after wearing it.
Back of  Men's Gladiator Kilt:
In the end, I will tell you about the back of the kilt. Back side is straight and elegant. There is also the layer like front side. Furthermore, it is without studs to provide you the comfort-ability during sitting. Amazingly, you can get the customized leather warrior skirt from us according to your needs.
If you want to buy this kilt then don't be late. It is because all stunning and gorgeous kilts of our store are available at an affordable price. You can enjoy our super offers.
Thanks a lot for your time. You can review our products and services. In case of any query email us on [email protected].
You may also like New Men Roman Leather Kilt Made To Measure