New Army Scottish Man Kilt With Fast DHL Shipping
A premium army scottish man kilt which has been made by our experienced kilt makers. This army men's kilt is the newest addition to our huge collection of army style kilts, but we make it unique by adding precious metal stuffs. Have a look at this army kilt? Its shape and design is very different as compared to other Camo kilts which you have seen in online kilt stores.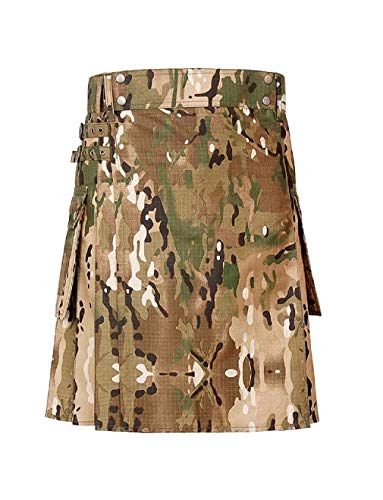 This Camo army kilt has been manufactured with top grade raw cotton material that is why it is the durable cotton kilt for you. Our efficient workers have done finest embroidery work to make this Camo kilt better than others.
Our Camo kilt experts always make top grade garment goods for our customers that is why our garment goods have a huge demand in many countries. This army scottish man kilt has been made with the default Camo color, but we can change the color as per the customer's instructions.
Moreover, we have made this kilt in every size and also customized the kilts if you did not find your own size.
Stylish Kilt
Have a look at this stylish Camo kilt? Our workers have attached best quality metal buttons on the front side for fastening the kilt  and two on the pockets of the army men's kilt. Our workers have also attached two big size Camo pockets with that kilt to facilitate the customers for keeping items such as keys, screwdrivers, papers, pen etc.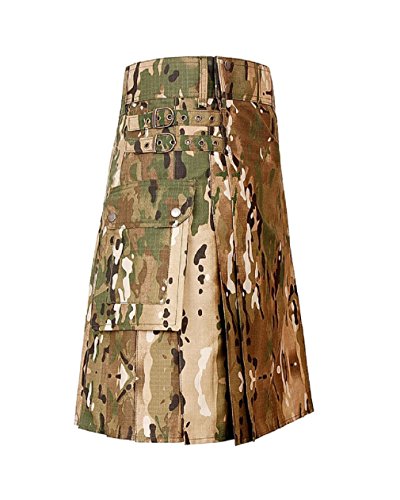 Camo color belt loops have also attached for our Camo lovers, so they can easily hold the belt of any size without facing any problem. Two premium metal buckles with straps have included for a better and comfortable fitting.
All necessary things which we have included above, make it the best Camo Scottish man kilt. This army kilt is the hand tailored kilt which can be worn with red, purple, blue or any color shirt or jacket which suits your style.
Well, this is designed for soldiers or military man, but you can wear such a beautiful Scottish army kilt at every event whether formal or non formal. More than 100 same design products have made by our workers according to customer's order. This army style kilt is best for every man, so buy at a very reasonable price.
Features of the kilt
Here are the important features of this kilt.
Custom Made

Material: 100% Cotton

Camo Color

Premium Stitching

Precious Buttons

Storage Pockets

Belt Loops

Internal Studs

Straps With Buckles

New Condition

Hand Made

For Every Event

Easy and Comfortable

Sewn Pleats
Best Quality Material
Our huge range of valuable kilts, coats and high standard jackets have appreciated all over the world because our kilt experts have used the best grade materials in these hand made goods.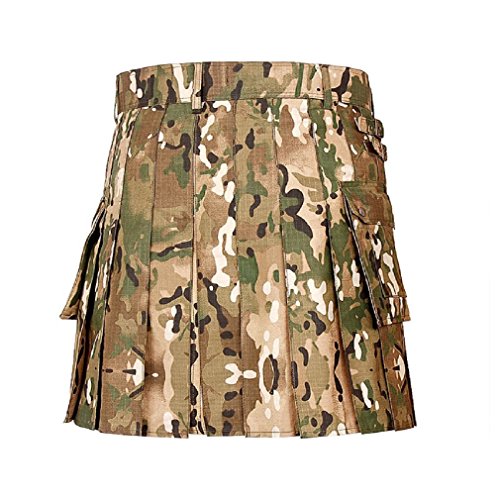 New Condition
This army soldier kilt is available in a new condition because we never sold used kilts to our customers.
Storage Pockets
We have added two pockets with this soldier men's utility kilt. One pocket has attached to the each side of the army men's kilt and each pocket has  beautified with two best quality metal buttons. These Camo pockets are big enough to keep items such as pen drive, keys, screw drivers etc.
Multi-Event Kilt
This is the best army men's kilt has not only on army duties. You can wear this Scottish man kilt at home or a friend's house or any other place which you like.
Price
This is the best selling Scottish man kilt which we are selling at a very minimum price.  So buy this precious army kilt and rock the world!
You may also like New Leather Autumn Jacket Womens V-Neckline